FOR BROKER/DEALER USE ONLY.
By accessing this site, I represent that I am a registered investment advisor or representative, or an assistant to such a person.
I will not access this website if that registration is withdrawn. Distributed by Timothy Partners, Ltd.
Member FINRA.
Conservative Growth Mutual Fund
Fund Allocation (12/31/2022 example)

Moderate levels of long-term capital growth
Timothy Plan's Conservative Growth fund is an asset allocation fund, or fund of funds. This means that the fund allocates, or invests, its capital in Timothy Plan's other mutual fund offerings. Thereby, it provides diversification that offers greater stability than an investment in one or two singular funds. The percentages of allocations are designed with a conservative strategy to protect principal, while offering moderate levels of capital growth that should outpace inflation. Call +1 (800) 846-7526 or chat online if you need any assistance.
Objective
The Fund's objective is to provide long-term growth of capital through investing in a diversified mix of Timothy Plan's equity and bond funds.
Strategy
The Conservative Growth Fund is an asset allocation fund that invests in other Timothy Plan Funds (the "Traditional Funds"). Within the guidelines in the prospectus, the Adviser determines the specific asset allocation program. Each day the Conservative Growth Fund is open for business, the Adviser reviews the asset allocation program and reallocates, as necessary, for any new assets invested in the Fund. As necessary, TPL also reallocates the Conservative Growth Fund's investments in the Traditional Funds at the end of each fiscal quarter to maintain the asset allocation program.
Risk & Strategy
We have created a worksheet to help you decide which funds might meet your investment needs, Asset Allocation Investor Worksheet. Answer the questions, then add your points to consider an appropriate strategy. The scale attempts to create a spectrum of the funds using a broad brush criteria of aggressiveness/risk. The scale and order of funds may not be accurate at any point in time, because as the markets shift and change, so will the relative positions of the funds. This should be considered as a general guideline and not a scientifically created/maintained analytical tool. You may want to consider a more aggressive or more conservative diversification than your score indicates.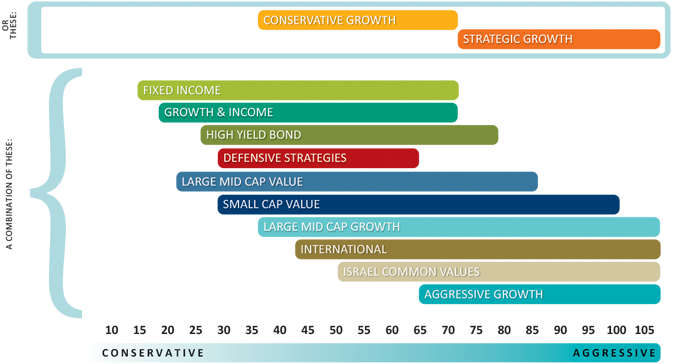 IMPORTANT LEGAL INFORMATION
Total Returns include change in share price, assume reinvestment of all distributions, and reflect the deduction of fund expenses and applicable fees. Total Returns With Sales Charge: returns reflect the deduction of the stated sales charge. Total returns, distribution rate, and yields reflect any applicable expense reductions, without which the results for those impacted funds would have been lower.
For more information on any of our funds, contact your financial advisor or download a free prospectus. Investors should carefully consider a fund's investment goals, risks, sales charges and expenses before investing. The prospectus contains this and other information. Please read the prospectus carefully before investing or sending money.
Timothy Plan funds offer multiple share classes. Share classes are subject to different fees and expenses, which will affect their performance. In general, Class A shares have a maximum initial sales charge; Class C shares have a 1% contingent deferred sales charge; Class I shares have no sales charges nor Rule 12b-1 fees.
All investments involve risks, including possible loss of principal. Value securities may not increase in price as anticipated or may decline further in value. While smaller and midsize companies may offer substantial opportunities for capital growth, they also involve heightened risks and should be considered speculative. Historically, smaller- and midsize- company securities have been more volatile in price than larger-company securities, especially over the short term. The fund may invest in foreign securities, which may involve special risks, including currency fluctuations and economic and political uncertainty. These and other risks are detailed in the fund's prospectus.
Performance data represents past performance, which does not guarantee future results. Current performance may differ from figures shown. Investment return and principal value will fluctuate with market conditions, and you may have a gain or loss when you sell your shares.
FOOTNOTES
As of Date: 9/26/23
Price: Value of one share on a given day.
Change: From last quoted price.
Israel Common Values: Fund commenced on October 12, 2011.
Growth & Income: Fund commenced on October 1, 2013.
NAV Notes: Net asset values fluctuate. Shares are not insured or guaranteed and are redeemable at current net asset value, which may be more or less than the original cost. Class C Share redemption may also be subject to a contingent deferred sales charge. Class C Shares commenced trading February 2, 2004. Performance of fund classes will differ.

Please see prospectus for details.